Tube and Hose Fittings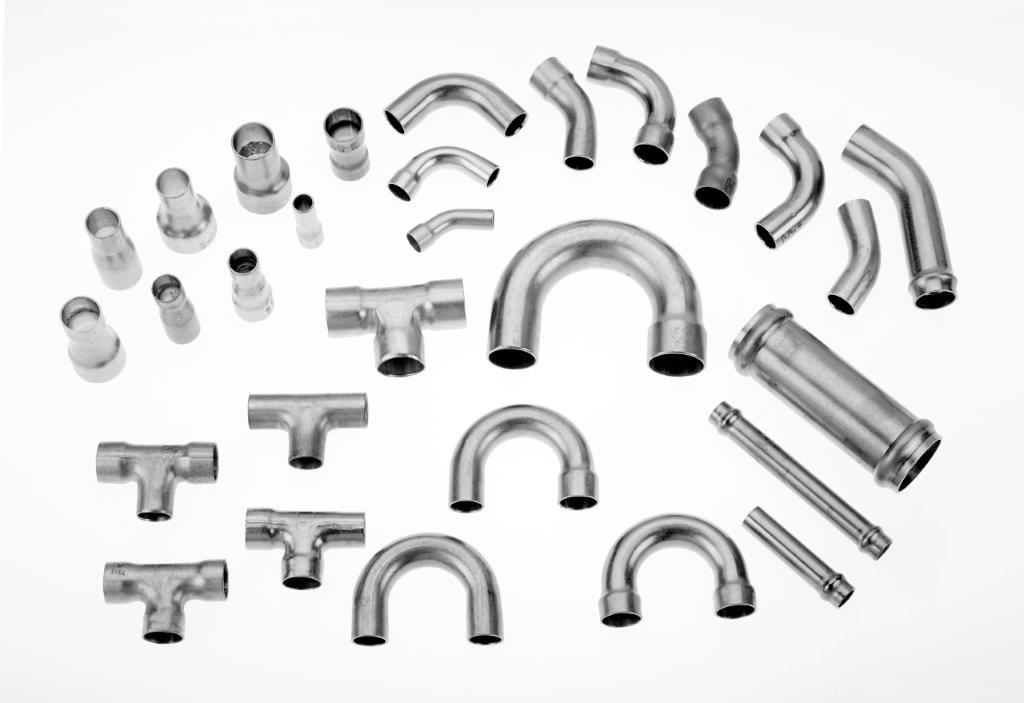 MicroGroup is a leader in the manufacture of tube fittings in stainless steel and nickel-covered brass, and carries a full assortment of fittings that complement All-Tube tubing. These stainless steel tube fittings are fabricated from thin wall tubing in actual tube OD sizes. BrazeTyte and HozeTyte were developed to satisfy the need for a standard line of versatile fittings compatible with thin wall stainless steel tubing and suitable for reliable permanent-type assemblies.
Click on the image to view a larger detailed image.
Image for reference only and may not reflect actual part appearance.
For more specific product information please see our Fittings Page.
Buy Today, Ships Next Business Day.
Showing all 33 results
Item #
A
Type
B
C
R
Wall
Nom OD
Price
Qty
10F-4


T316 Cap Female Closed, OD 1/4, Wall .032, A1/4

1/4"
Cap
0.032
1/4"
10F-8


T316 Cap Female Closed, OD 1/2, Wall .032, A5/16

5/16"
Cap
0.032
1/2"
10FF-5


T316, OD 5/16, Wall .025, A1, B3/4

1"
Union
3/4"
0.025
5/16"
5MF-8-6


T316 Reducer Male OD-Female ID, OD 1/2X3/8, Wall .032, A1-9/32, B1/2, C.379

1 9/32"
Reducer
1/2"
0.379
0.032
1/2"X3/8"
5MF-24-20


T316 Reducer Male OD-Female ID, OD 1-1/2X1-1/4, Wall .049, A2-3/8, B1-1/2, C1.225

2 3/8"
Reducer
1 1/2"
1.225
0.049
1 1/2"X1 1/4"
5FF-6-4


T316, OD 3/8X1/4, Wall .025, A2-7/32, B.379, C.254

2 7/32"
Reducing Union
0.379
0.254
0.025
3/8"X1/4"
5FF-6-5


T316, OD 3/8X5/16, Wall .025, A1, B.379, C.316

1"
Reducing Union
0.379
0.316
0.025
3/8"X5/16"
5FF-10-8


T316, OD 5/8X1/2, Wall .035, A1-5/16, B.629, C.504

1 5/16"
Reducing Union
0.629
0.504
0.035
5/8"X1/2"
5FF-20-16


T316, OD 1-1/4X1, Wall .049, A2-3/8, B1.255, C1.005

2 3/8"
Reducing Union
1.255
1.005
0.049
1 1/4"X1"
90MM-8


T316, OD 1/2, Wall .032, R3/4, A1-1/4

1 1/4"
90 Elbow
3/4"
0.032
1/2"
90MH-6


T316 90° Elbow Male Tube-Hose Bead, ID 3/8, Wall .028, R9/16, A1, B2-1/16

1"
90 Elbow
2 1/16"
9/16"
0.028
90FF-5


T316, OD 5/16, Wall .025, R15/32, B27/32

90 Elbow
27/32"
15/32"
0.025
5/16"
90FF-6


T316, OD 3/8, Wall .028, R9/16, B15/16

90 Elbow
15/16"
9/32"
0.028
3/8"
90FF-8


T316, OD 1/2, Wall .032, R3/4, B1-1/4

90 Elbow
1 1/4"
3/4"
0.032
1/2"
90FF-10


T316, OD 5/8, Wall .035, R15/16, B1-1/2″

90 Elbow
1 1/2"
15/16"
0.035
5/8"
90FF-12


T316, OD 3/4, Wall .042, R1-1/8, B1-7/8

90 Elbow
1 7/8"
1 1/8"
0.042
3/4"
90MF-6


T316, OD 3/8, Wall .028, R9/16, A1, B15/16

1"
90 Elbow
15/16"
9/16"
0.028
3/8"
90MF-10


T316, OD 5/8, Wall .035, R15/16, A1-9/16, B1-9/16

1 9/16"
90 Elbow
1 9/16"
15/16"
0.035
5/8"
180MM-6


T316, OD 3/8, Wall .028, R9/16, A1, C1-1/8

1"
180 Return
1 1/8"
9/16"
0.028
3/8"
180FF-8


T316, OD 1/2, Wall .032, R3/4, C1-1/2, B1-1/4

180 Return
1 1/4"
1 1/2"
3/4"
0.032
1/2"
180FF-10


T316, OD 5/8, Wall .035, R15/16, C1-7/8, B1-9/16

180 Return
1 9/16"
1 7/8"
15/16"
0.035
5/8"
180FF-16


T316, OD 1, Wall .049, R1-1/2, C3, B2-15/32

180 Return
2 15/32"
3"
1 1/2"
0.049
1"
45FF-12


T316, OD 3/4, Wall .042, R1-1/8, B1-7/32

45 Elbow
1 7/32"
1 1/8"
0.042
3/4"
45MF-5


T316, OD 5/16, Wall .025, R15/32, A5/8, B9/16

5/8"
45 Elbow
9/16"
15/32"
0.025
5/16"
15MF-8


T316, OD 1/2, Wall .032, A1-5/8, B13/16

1 5/8"
Tee
13/16"
0.032
1/2"
15MF-20


T316, OD 1-1/4, Wall .049, A3-5/8, B1-13/16

3 5/8"
Tee
1 13/16"
0.049
1 1/4"
20MF-8


T316, OD 1/2, Wall .032, A1-5/8, B13/16

1 5/8"
Tee
13/16"
0.032
1/2"
30FF-8


T316, OD 1/2, Wall .032, A1-5/8, B13/16

1 5/8"
Tee
13/16"
0.032
1/2"
30FF-12


T316, OD 3/4, Wall .042, A2-3/8, B1-3/16

2 3/8"
Tee
1 3/16"
0.042
3/4"
30FF-16


T316, OD 1, Wall .049, A3-1/4, B1-5/8

3 1/4"
Tee
1 5/8"
0.049
1"
10MF-8-10


T316 Expander Male OD-Female ID, OD 1/2X5/8, Wall .035, A1-3/8, B1/2, C.629

1 3/8"
Expander
1/2"
0.629
0.035
1/2"X5/8"
10MF-16-24


T316 Expander Male OD-Female ID, OD 1X1-1/2, Wall .049, A2-1/16, B1, C1.505

2 1/16"
Expander
1"
1.505
0.049
1"X1 1/2"
10SM-8


T316, OD 1/2, Wall .032, H7/8, T3/4-16, A1-9/32

1 9/32"
Adapter
0.032
1/2"

* Dimensions are in inches and prices are in USD