Precision Cutting and Deburring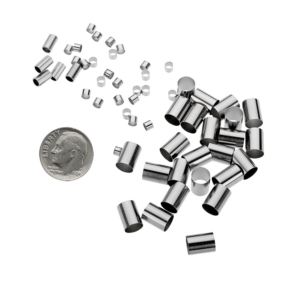 MicroGroup, part of TE Connectivity, offers a complete range of cutting methods to suit the most specific requirement — from rough cuts to extremely precise, burr-free cuts with high quality edges and finishes.
The Cutting and Deburring Department can cut stock of virtually any O.D. but specializes in sizes under 1.0″ O.D., and can cut stock as small as 0.005″ O.D. metal stock can be cut to lengths as short as .010″ up to 20+ feet, with tolerances of ± 0.0005″ or better.
Materials include all alloys of Stainless Steel, Titanium, Copper, Aluminum, Nickel, Nitinol and Superalloys such as Hastelloy®, Inconel®, Monel.
MicroGroup can also satisfy any capacity requirement, from one piece to millions of pieces, and offers exceptionally short lead times.
Cutting methods include:
Electrochemical Cutting (ECC)
Electrical Discharge Machining (Wire EDM)
Laser cutting
Electro Chemical Grinding (ECG)
Abrasive cutting & Deburring
A fully functional machine shop, MicroGroup can also cut using Band Saws, Cold Saws, Lathes and Shears for larger or unconventional shapes and sizes.
Deburring can be accomplished using a variety of techniques, from state-of-the-art cutting methods to traditional hand and wire wheel processes, as the size, shape, material, finish and quantity of your parts dictate.
MicroGroup offers 100% Burr-Free Cutting
| Type | Characteristics |
| --- | --- |
| Electrical Discharge Machining (Wire EDM) | Tightest tolerances, burr free |
| ECC – Electro Chemical Cutting | Tight tolerances, Fast cutting of small diameter, Thin Wall, burr free |
| Laser Cutting | No touch cutting, tight tolerances, burr free, thin parts, intricate parts |
| Abrasive Cutting | Lower tolerance, large diameter, need to be deburred, rough cutting |