Laser Cutting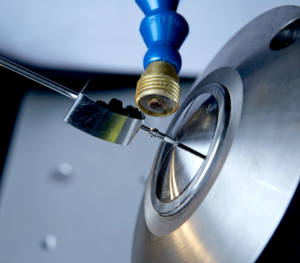 MicroGroup, part of TE Connectivity, has CNC-controlled Laser Machines generate a high-powered beam of light that delivers precise, repeatable cuts with optimized end face surface finish and edge quality.
MicroGroup has eleven YAG lasers in house, five of which are hitch-fed stent lasers, excellent for high volume production work. These lasers can repeatedly cut metal in thicknesses from.125″ down to .001″, and can cut slots as thin as .0008″.
Laser cutting is typically selected for parts that are small in size, highly precise and/or geometrically intricate. Since laser cutting is non-contact, it is ideal for the cutting of very thin-wall, fragile parts without distortion. It is also a clean process since cut faces do not contact a blade or cutting tool, which could impart contaminants. Laser cutting is an excellent complement to other MicroGroup cutting technologies, since laser cutting is often an economical alternative to electrical discharge machining (EDM) and/or milling.