Heat Shrink Stock Tubing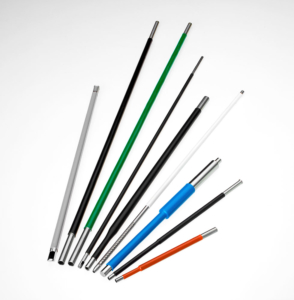 TE Connectivity (TE) has more than 70 years of proven expertise in the material formulation, compounding, extrusion, irradiation, and expansion of high-performance heat shrink tubing.  With the broadest array of heat-shrinkable materials available, we have many products to suit different requirements and almost any design situation for the medical device market.
Whether you need tubing only or a complete integrated solution for your medical device, we have the engineering expertise, manufacturing capability and products to simplify your supply chain. Your medical device needs can be fulfilled all in house, from one company, and we can customize our products to fit your requirements.
The TE Heat Shrink Advantage
Thin walls down to 0.001 inches
Peelable heat shrink process aids
Single and dual-wall constructions, including adhesive lining
Controlled longitudinal change
Shrink ratios up to 5:1
Custom cutting and slitting
Browse Heat Shrink Stock Tubing Products
TE Heat Shrink Material Options
Fluorinated ethylene propylene (FEP)
Polyether block amide (PEBA)
Polyvinylidene fluoride (PVDF)
Low-density polyethylene (LDPE)
High-density polyethylene (HDPE)
Ethyl methyl acrylate (EMA)
Raychem Medical Tubing Features
Unique formulations to address a board range of medical applications
Custom compound development
Robust and chemical resistant materials
High level of stability and temperature resistance
Compliant to RoHS, USP class VI biocompatibility, and ISO 10993 standards
Manufactured in an FDA registered and ISO 13485 certified facility
Select products registered with FDA through the master file system (MAF)
Laparoscopic, Sports-Medicine, and Electrosurgical Device Protection
MT1000, MT2000, MT3000, and MT5000 – TE's heat shrink portfolio consist of a broad range of products that can be selected for sterilization versatility, flexibility or rigidity, lubricity, and chemical and abrasion resistance. From protective outer sheaths for laparoscopic and electrosurgical shafts, to lubricious layers between inner and out shafts in high RPM applications such as arthroscopic bone shaving.
Manufacturing Process Aids
MT-LWA and MT-FEP: TE offers both fluoropolymer and polyolefin-based materials for process aid applications.
MT-FEP – With shrink ratios up to 1.67:1, TE's MT-FEP maintains longitudinal change <10% to reduce lot-to-lot variability and enable consistent shaft reflow processes. MT-FEP is offered in shrink ratios up to 1.67:1.
MT-LWA – With shrink ratios up to 5:1, TE's MT-LWA is perfect for reflow applications where FEP shrink ratios are not suitable. MT-LWA has excellent tear propagation, allowing it to peel easily and without the use of blades. It's optical clarity and optional controlled shrink force make it an exceptional process aid for hot jaw bonding and laser-weld application, such as balloon bonding.
Interventional Shaft Encapsulation
MT-PBX and MT-PBX/PBX – Single and dual wall PEBA heat shrink with walls down to 0.001" and shrink ratios up to 4:1.
MT-PBX – Single wall PEBA-based heat shrink. Recovered wall thickness down to 0.001" to provide thin wall protection of material transitions or entire catheter shafts
MT-PBX/PBX – Dual wall PEBA; outer layer will heat shrink and inner layer will reflow to join with underlying braid to create a braided catheter shaft without the use of a process aid such as LWA or FEP.
Protection and Strain Relief for Flexible Joints
MT1000, MT3000, MT5000, and MT5510 – Provide durability and protection from temperature and chemicals through repeated flexure.
Complete Listing and Specifications