Dental
For over 50 years MicroGroup, part of TE Connectivity, has been manufacturing components for the biggest Medical Device OEM's. Proprietary manufacturing methods and state-of-the-art equipment allow MicroGroup to provide high-quality and precision components with quick lead-times. MicroGroup's ability to resize and centerless grind tubing allows us to create inner/outer components with tolerances of "tenths of a thousandth of an inch".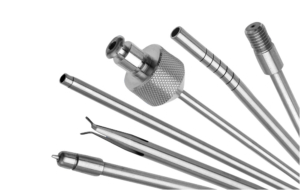 Depending on design and intended function, technologies of Multi-Axis CNC Grinding, CNC Turning, specialized EDM processes and Laser Welding are strategically used to provide intended geometry and ultimate performance.
Dental components manufactured include:
Scalers
Irrigation Tubes
Cutting instruments
To complement our machining technology, MicroGroup has a multitude of other capabilities to support your medical device development requirements. Our vast array of finishing processes can be used to create matte, shiny, smooth, roughened, sharp, laser marked, e-polished and passivated surfaces.
As a one stop shop, MicroGroup can take your electronic files convert them to a CNC program through our PROPELUS rapid prototyping service.