Stock Fittings & Parts
MicroGroup, part of TE Connectivity, is a leader in the manufacture of tube fittings in stainless steel carrying a full assortment of fittings that complement our tubing.
BrazeTyte® stainless steel tube fittings are designed for use with various sizes of tubing and are intended to be brazed, soldered, or welded directly to the tubing.
HozeTyte® stainless steel tube fittings are designed to attach flexible hose to rigid tubing.
ModuLUER® and compression fittings feature quick-locking and quick-release operation and can are manufactured of  stainless steel.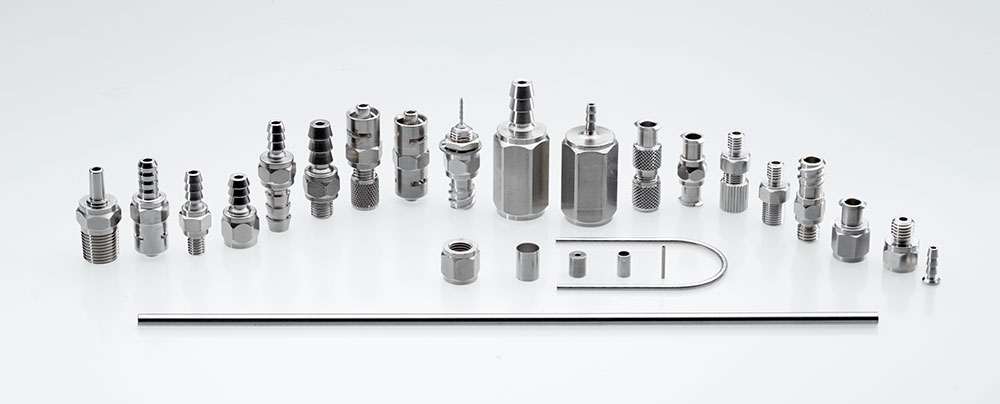 Unique Concept
These stainless steel tube fittings are fabricated from thin wall tubing in actual tube OD sizes. BrazeTyte® and HozeTyte® were developed to satisfy the need for a standard line of versatile fittings compatible with thin wall stainless steel tubing and suitable for reliable permanent-type assemblies.
Material
The use of stainless steel has increased steadily due to its corrosion resistance and high strength — advantages that are now available with BrazeTyte® and HozeTyte® fittings at reasonable cost.
Application
BrazeTyte® and HozeTyte® fittings are ideal for numerous applications across the beverage, chemical, food, marine, medical, photography, refrigeration and other industries.
Advantages
This new line of fittings is fabricated from thin wall type 316L stainless steel tubing to provide maximum corrosion resistance with minimum bulk and weight. All elbows incorporate smooth radius bends for maximum flow and minimum turbulence.
Because BrazeTyte® and HozeTyte® fittings utilize thin wall tubing, they are light in weight and provide larger tube inside dimensions for increased capacity and flow. These fittings afford a substitute for the present, heavy, machined fittings produced from bulky, expensive forgings. The construction of BrazeTyte ® and HozeTyte® fittings facilitates the use of thin wall tubing throughout the complete system.
Installation costs are reduced, because BrazeTyte® and HozeTyte® fittings are easy to use. Special tools are not required and quick connections may be made using conventional methods.
Specialty Saw and Blades
MicroGroup also manufactures a Specialty Saw, assorted blades for cutting tubing of all types, and brushes.
To purchase select fittings, the specialty saw, or saw parts and blades please visit the Online Store.