Specialty Saw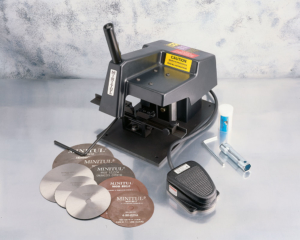 MicroGroup, part of TE Connectivity, offers a Specialty Saw and a range of abrasive saw blades to assist you in fabricating your prototypes or finished OEM products and sub-assemblies. Please visit our online store.
The Model-500 Small Diameter Cut-Off Saw is a portable, easy-to-use tube saw for small diameter cutting requirements. It comes fully assembled and ready to perform efficiently on a variety of materials from aluminum to stainless steel tubing. MicroGroup stocks all replacement parts for the Model-500 saw, which comes with two metal cutting blades, a stick of Boelube (item 70200-13), and a 90-day warranty.
Features
Cut lengths from 1/16″
Cuts with Minimal Burr
Miters to 30 degrees
Portable 115v AC
Cuts to 1/2″ Cross Section
Double-Acting Vise
Cuts to +/- 0.005″ Tolerance
1/2″ Arbor
Positive Drive Belt
Foot Control
2 Free Blades (5-080-030A)
Applications
Stainless Steel
Brass
Copper
Glass
Plastic
Composites
Braided Cable
Coax Cable
Armored Cable
Most Materials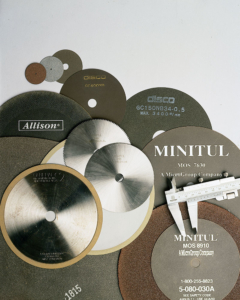 Abrasive Cut-Off Blades
MicroGroup stocks a wide variety of saw blades for most applications and requirements. Below is a comprehensive list of the blades in stock for immediate shipment.
Also available on our online store.
Item #

General Purpose Saw Blades

Diameter

Grit/#Teeth

Thickness

Type

Arbor Size

Alum < 1/4″

Alum > 1/4″

Brass < 1/4″

Brass > 1/4″

Copper < 1/8″

Copper > 1/8″

Glass

Plastics < 1/8″

Plastics > 1/8″

Steel Stainless

Steel

Wood

4-240-013A
Non-Reinforced Rubber Abrasive Blade with Special Mixed Abrasive Sizes for minimum burr. Most commonly used for cutting any steels up to 1/2″ diameter.
4
240
013
A
1/2
4-120-016A
Non-Reinforced Rubber Abrasive Blade with Special Mixed Abrasive Sizes for minimum burr. Most commonly used for cutting any steels up to 1/2″ diameter.
4
120
016
A
1/2
5-120-015A
Non-Reinforced Rubber Abrasive Blade. Recommended for cutting metals when #5-80-030 causes motor to labor excessively or when burrs are unacceptable. The blade is somewhat fragile and used for very light wall to 1/2″ diameter.
5
120
015
A
1/2
4-090-025A
Non-Reinforced Rubber Abrasive Blade. Rugged blade cuts metals, reduces motor load. Best blade if used only occasionally), due to rugged construction, to be used on most stock over 3/8″ dia.
4
90
025
A
1/2
4-060-030AR
Heavy Duty Reinforced Resin Abrasive Blade Can be used for cutting Titanium
4
60
047
A
1/2
5-060-030AR
Heavy Duty Reinforced Resin Abrasive Blade Can be used for cutting Titanium
5
60
047
A
1/2
5-080-030A
Heavy Duty Non-Reinforced Rubber Abrasive Blade. Similar to 4-90-025A. The best all purpose blade. For heavy cuts.
5
80
030
A
1/2
5-080-035A
Heavy Duty Non-Reinforced Rubber Abrasive Blade. Similar to 4-90-025A. The best all purpose blade. For heavy cuts.
5
80
035
A
1/2
5-080-060A
For extra-heavy cuts.
5
80
060
A
1/2
5-046-060AR
Heavy Duty Reinforced Resin Abrasive Blade. Similar to 4-90-025A. For heavy cuts.
5
46
067
A
1/2
4-SPL-009S
Non-Reinforced Rubber/Silicon Carbide Blade. Silicon abrasive allows this blade to cut through very small diameter hypodermic tubing, drill blanks and glass; However, this blade requires extreme care in handling to prevent breakage since it is only .009″ thick. Use with a Boelube®.
4
–
009
S
1/2
4-120-025S
Non-Reinforced Rubber/Silicon Carbide Heavy Duty Blade for cutting glass, ceramics, and thermocouple cable. Should be used with Boelube®.
4
120
025
S
1/2
4-028-024HS
High-Speed Steel Blade.Used for plastics and wood without lubricant. Excellent for cutting copper, aluminum and brass. Use with a Boelube®,except on brass (cut dry).
4
28
024
HS
1/2
5-024-028HS
High-Speed Steel Blade.Used for plastics and wood without lubricant. Excellent for cutting copper, aluminum and brass. Use with a Boelube®,except on brass (cut dry).
5
24
028
HS
1/2
5-010-030HG
Hollow-Ground High-Speed Steel Blade. Used on larger sections of soft metals and wood due to hollow ground side which prevents jamming in cut. Excellent for cutting copper, aluminum and brass. Should be used with Boelube®, except on brass (cut dry).
5
10
030
HG
1/2
| | | |
| --- | --- | --- |
| A = Aluminum Oxide | S = Silicon Carbide | HS = High Speed Steel |
| HG = Hollow Ground High Speed Steel |  = Dry Cut |  = Use Boelube |