Hypodermic Tubing
Hypodermic tubing is welded and drawn to tight OD and ID tolerances, and is sold and stocked in gauge sizes.
MicroGroup maintains both 304 stainless steel and 316 stainless steel tubing in stock, typically in full-hard temper condition. 304 stainless steel hypodermic tubing is stocked in all sizes and wall thicknesses. 316 stainless steel hypodermic tubing is stocked in all gauges but primarily stocked in Regular Wall (RW) and Thin Wall (TW).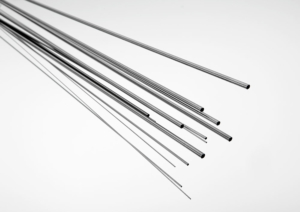 MicroGroup hypodermic tubing is ideal for medical and industrial components applications that require strength, uniformity, and corrosion resistance. Not manufactured for pressure service. Wide selection, economical and quick delivery.
For sizes or alloys not listed below, or to place an order, call 800-255-8823. To purchase standard stock tubing please visit our Online Store.
The Hypodermic Tubing tables on this page have been revised to address the inconsistency of past "standards" which vary by vendor. MicroGroup has attempted to meet as many of these old varied standards as possible in these new tables. Please verify your older prints. Although every effort has been made to ensure accuracy, no guarantee is granted or implied. Unlike other tubing and pipe sizes, hypodermic tubing is specified by a gauge number that determines OD and ID of the tube, not the wall thickness.
Please Specify Hypodermic Tubing By:

Complete Listing and Specifications
View