Hypodermic Tubing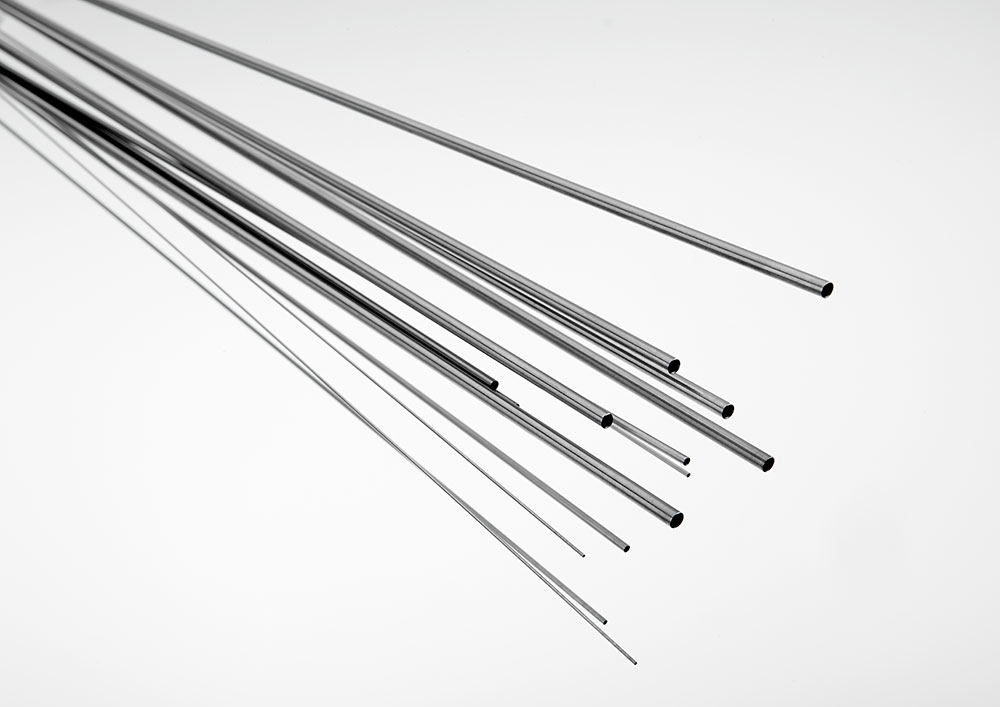 We offer Stainless Steel Hypodermic Tubing that is welded and drawn to tight OD and ID tolerances, and is sold and stocked in gauge sizes. Tolerances meet or exceed ASTM A908 standard as applicable. MicroGroup maintains both 304 Stainless Steel and 316 Stainless Steel in stock, in full-hard temper condition.
For a complete list of sizes and alloys or additional information:
www.microgroup.com or call 800-ALL-TUBE(255-8823).
Please specify Hypodermic tubing by:

For more information about sizes or alloys not listed below call 800-All-TUBE and speak with one of our All-Tube Sales Representatives.
Buy Today, Ships Next Business Day.
Certificate of Compliance is available by request with a minimum item order of $400
Showing all 177 results
Item #
Gauge
Nom Wall
Nom ID
OD Min
OD Max
ID Min
ID Max
Alloy
Nom OD
Length
Price
Qty
304H03RW


304 Stainless Steel WD 3RW Gauge Hypodermic: OD 0.188 X ID 0.168

3RW
0.02
0.219
0.257
0.261
0.216
0.222
304
0.259
304H03TW

3TW
0.015
0.229
0.257
0.261
0.227
0.231
304
0.259
304H03X

3X
0.01
0.239
0.257
0.261
0.237
0.241
304
0.259
304H04RW

4RW
0.02
0.198
0.236
0.24
0.195
0.201
304
0.238
304H04TW

4TW
0.015
0.208
0.236
0.24
0.206
0.21
304
0.238
304H04X

4X
0.01
0.218
0.236
0.24
0.216
0.22
304
0.238
304H05RW

5RW
0.015
0.189
0.217
0.221
0.186
0.192
304
0.219
304H05X

5X
0.007
0.205
0.217
0.221
0.203
0.207
304
0.219
304H06RW

6RW
0.015
0.173
0.202
0.204
0.17
0.176
304
0.203
304H06TW

6TW
0.01
0.183
0.202
0.204
0.181
0.185
304
0.203
304H06X

6X
0.007
0.189
0.202
0.204
0.187
0.191
304
0.203
304H06.5

6.5
0.01
0.168
0.187
0.189
0.165
0.171
304
0.188
304H07RW

7RW
0.015
0.15
0.179
0.181
0.147
0.153
304
0.18
304H07TW

7TW
0.01
0.16
0.179
0.181
0.158
0.162
304
0.18
304H07X

7X
0.007
0.166
0.179
0.181
0.164
0.168
304
0.18
304H07XX

7XX
0.004
0.173
0.179
0.181
0.172
0.174
304
0.18
304H07.5

7.5
0.011
0.15
0.171
0.173
0.147
0.153
304
0.172
304H08RW

8RW
0.015
0.135
0.164
0.166
0.132
0.138
304
0.165
304H08TW

8TW
0.01
0.145
0.164
0.166
0.143
0.147
304
0.165
304H08XX

8XX
0.007
0.15
0.164
0.166
0.1475
0.153
304
0.165
304H08.5

8.5
0.01
0.136
0.155
0.157
0.133
0.139
304
0.156
304H09RW

9RW
0.015
0.118
0.147
0.149
0.115
0.121
304
0.148
304H09TW

9TW
0.01
0.128
0.147
0.149
0.126
0.13
304
0.148
304H09UX

9UX
0.005
0.138
0.147
0.149
0.136
0.14
304
0.148
304H09XX

9XX
0.007
0.135
0.147
0.149
0.133
0.137
304
0.148
304H09.5

9.5
0.011
0.119
0.14
0.142
0.117
0.121
304
0.141
304H10RW

10RW
0.014
0.106
0.133
0.135
0.104
0.108
304
0.134
304H10TW

10TW
0.01
0.114
0.133
0.135
0.112
0.116
304
0.134
304H10X

10X
0.008
0.118
0.133
0.135
0.1165
0.12
304
0.134
304H10XX

10XX
0.006
0.122
0.133
0.135
0.12
0.124
304
0.134
304H10.5

10.5
0.01
0.106
0.125
0.127
0.104
0.108
304
0.126
304H11RW

11RW
0.013
0.094
0.119
0.121
0.092
0.096
304
0.12
304H11TW

11TW
0.01
0.1
0.119
0.121
0.098
0.102
304
0.12
304H11X

11X
0.007
0.106
0.119
0.121
0.104
0.108
304
0.12
304H11XX

11XX
0.004
0.112
0.119
0.121
0.11
0.114
304
0.12
304H11.5

11.5
0.01
0.095
0.114
0.116
0.093
0.096
304
0.115
304H12H

12H
0.016
0.077
0.108
0.11
0.075
0.079
304
0.109
304H12RW

12RW
0.012
0.085
0.108
0.11
0.083
0.087
304
0.109
304H12TW

12TW
0.009
0.091
0.108
0.11
0.089
0.093
304
0.109
304H12X

12X
0.006
0.097
0.108
0.11
0.095
0.099
304
0.109
304H12XX

12XX
0.005
0.1
0.108
0.11
0.099
0.101
304
0.109
304H12.5

12.5
0.009
0.082
0.099
0.101
0.08
0.084
304
0.1
304H13RW

13RW
0.012
0.071
0.094
0.096
0.069
0.073
304
0.095
304H13TW/2

13TW
0.009
0.077
0.094
0.096
0.075
0.079
304
0.095
304H13X

13X
0.005
0.085
0.094
0.096
0.084
0.086
304
0.095
304H13XX

13XX
0.003
0.09
0.094
0.096
0.089
0.091
304
0.095
304H13.5

13.5
0.009
0.071
0.088
0.09
0.069
0.073
304
0.089
304H14H

14H
0.017
0.049
0.082
0.084
0.047
0.051
304
0.083
304H14M

14M
0.008
0.068
0.082
0.084
0.066
0.069
304
0.083
304H14RW

14RW
0.01
0.063
0.082
0.084
0.061
0.065
304
0.083
304H14TW

14TW
0.006
0.072
0.082
0.084
0.07
0.073
304
0.083
304H14XH

14XH
0.022
0.039
0.082
0.084
0.037
0.041
304
0.083
304H14XX

14XX
0.003
0.077
0.082
0.084
0.076
0.078
304
0.083
304H14.5

14.5
0.008
0.063
0.077
0.079
0.062
0.064
304
0.078
304H15H

15H
0.011
0.05
0.0715
0.0725
0.048
0.052
304
0.072
304H15RW

15RW
0.009
0.054
0.0715
0.0725
0.0525
0.0555
304
0.072
304H15TW

15TW
0.006
0.06
0.0715
0.0725
0.0585
0.0615
304
0.072
304H15X

15X
0.005
0.063
0.0715
0.0725
0.062
0.064
304
0.072
304H15.5

15.5
0.007
0.054
0.0675
0.0685
0.0525
0.0555
304
0.068
304H16H

16H
0.016
0.033
0.0645
0.0655
0.031
0.035
304
0.065
304H16RW

16RW
0.009
0.047
0.0645
0.0655
0.0455
0.0485
304
0.065
304H16TW

16TW
0.006
0.053
0.0645
0.0655
0.0525
0.0545
304
0.065
304H16X/2

16X
0.004
0.0565
0.058
0.0655
0.055
0.058
304
0.065
304H16XX

16XX
0.003
0.06
0.0645
0.0655
0.0585
0.061
304
0.065
304H16.5

16.5
0.005
0.052
0.0615
0.0625
0.0505
0.0535
304
0.062
304H17H

17H
0.01
0.039
0.0585
0.0595
0.037
0.041
304
0.059
304H17RW

17RW
0.009
0.041
0.0585
0.0595
0.0395
0.0425
304
0.059
304H17S

17S
0.008
0.042
0.0575
0.0585
0.0405
0.0435
304
0.058
304H17SX

17SX
0.004
0.05
0.0575
0.0585
0.049
0.051
304
0.058
304H17TW

17TW
0.007
0.046
0.0585
0.0595
0.0445
0.0475
304
0.059
304H17X/1

17X
0.004
0.052
0.053
0.0595
0.051
0.053
304
0.059
304H17XX

17XX
0.002
0.054
0.0585
0.0595
0.0535
0.055
304
0.059
304H17.5

17.5
0.005
0.046
0.0555
0.0565
0.0445
0.0475
304
0.056
304H18H

18H
0.01
0.03
0.0495
0.0505
0.028
0.032
304
0.05
304H18RW

18RW
0.009
0.033
0.0495
0.0505
0.0315
0.0345
304
0.05
304H18S

18S
0.006
0.038
0.0495
0.0505
0.0365
0.0395
304
0.05
304H18TW

18TW
0.004
0.042
0.0495
0.0505
0.041
0.043
304
0.05
304H18XX

18XX
0.003
0.045
0.0495
0.0505
0.044
0.046
304
0.05
304H18.5

18.5
0.006
0.034
0.0455
0.0465
0.0325
0.0355
304
0.046
304H19H

19H
0.01
0.023
0.042
0.043
0.021
0.024
304
0.0425
304H19RW

19RW
0.008
0.028
0.042
0.043
0.026
0.029
304
0.0425
304H19TW

19TW
0.005
0.033
0.042
0.043
0.0315
0.0335
304
0.0425
304H19X

19X
0.004
0.035
0.042
0.043
0.034
0.036
304
0.0425
304H19XX

19XX
0.003
0.038
0.042
0.043
0.0365
0.0385
304
0.0425
304H19.5

19.5
0.006
0.027
0.0385
0.0395
0.0255
0.0285
304
0.039
304H20RW

20RW
0.006
0.024
0.0355
0.036
0.023
0.0245
304
0.0355
304H20TW

20TW
0.005
0.026
0.0355
0.036
0.025
0.0265
304
0.0355
304H20X

20X
0.004
0.028
0.0355
0.036
0.027
0.0285
304
0.0355
304H20XX

20XX
0.003
0.031
0.0355
0.036
0.0295
0.0315
304
0.0355
304H20.5

20.5
0.004
0.027
0.034
0.0345
0.0255
0.0275
304
0.034
304H21H

21H
0.008
0.017
0.032
0.0325
0.015
0.018
304
0.032
304H21RW

21RW
0.006
0.02
0.032
0.0325
0.0195
0.021
304
0.032
304H21TW

21TW
0.005
0.023
0.032
0.0325
0.022
0.024
304
0.032
304H21XX

21XX
0.002
0.029
0.032
0.0325
0.028
0.0295
304
0.032
304H21.5

21.5
0.003
0.024
0.03
0.0305
0.023
0.0245
304
0.03
304H22RW

22RW
0.006
0.016
0.028
0.0285
0.0155
0.017
304
0.028
304H22TW

22TW
0.004
0.02
0.028
0.0285
0.019
0.0205
304
0.028
304H22X

22X
0.003
0.022
0.028
0.0285
0.021
0.0225
304
0.028
304H22XH

22XH
0.011
0.007
0.028
0.0285
0.005
0.009
304
0.028
304H22XX

22XX
0.002
0.024
0.028
0.0285
0.023
0.024
304
0.028
304H22.5

22.5
0.003
0.02
0.026
0.0265
0.0195
0.021
304
0.026
304H23RW

23RW
0.006
0.013
0.025
0.0255
0.0125
0.014
304
0.025
304H23TW

23TW
0.004
0.017
0.025
0.0255
0.0165
0.018
304
0.025
304H23XX

23XX
0.002
0.02
0.025
0.0255
0.0195
0.021
304
0.025
304H23.5

23.5
0.003
0.017
0.023
0.0235
0.0165
0.018
304
0.023
304H24RW

24RW
0.005
0.012
0.022
0.0225
0.0115
0.013
304
0.022
304H24TW

24TW
0.004
0.014
0.022
0.0225
0.0135
0.015
304
0.022
304H24XX

24XX
0.003
0.016
0.022
0.0225
0.0155
0.017
304
0.022
304H24.5

24.5
0.002
0.016
0.021
0.0215
0.0155
0.017
304
0.021
304H25RW

25RW
0.005
0.01
0.02
0.0205
0.0095
0.011
304
0.02
304H25TW

25TW
0.004
0.012
0.02
0.0205
0.0115
0.013
304
0.02
304H25XX

25XX
0.002
0.016
0.02
0.0205
0.0155
0.017
304
0.02
304H25.5

25.5
0.002
0.014
0.019
0.0195
0.0135
0.015
304
0.019
304H26RW

26RW
0.004
0.01
0.018
0.0185
0.0095
0.011
304
0.018
304H26TW

26TW
0.003
0.0123
0.018
0.0185
0.0115
0.013
304
0.183
304H26X

26X
0.0023
0.0138
0.018
0.0185
0.013
0.0145
304
0.0183
304H27RW

27RW
0.004
0.008
0.016
0.0165
0.0075
0.009
304
0.016
304H27TW

27TW
0.003
0.0103
0.016
0.0165
0.0095
0.011
304
0.0163
304H27X

27X
0.0021
0.012
0.016
0.0165
0.0115
0.0125
304
0.0163