Industrial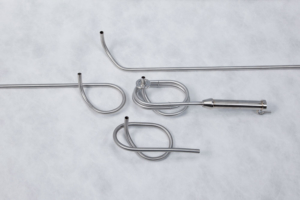 MicroGroup, part of TE Connectivity, has been manufacturing industrial components for OEM's for over 50 years. Proprietary manufacturing methods and state-of-the-art equipment allow MicroGroup to provide high-quality and precision components with quick lead-times. Depending on design and intended function, technologies of Multi-Axis CNC Milling, CNC Turning, CNC Grinding and specialized EDM processes are strategically used to provide intended geometry and ultimate performance.
Industrial components manufactured include:
Plates, Blocks
Multiple component assembly manifolds
Heater coils
Cannular components
MicroGroup can produce the highest quality components and devices to exacting tolerances. Our extensive experience in processing capabilities have allowed us to perfect the programming and machining of the toughest profiles along with the finest finishes to provide the highest component durability.
To complement our machining technology, MicroGroup has a multitude of other capabilities to support your medical device development requirements. Components can be assembled to shafts, and plates using our state of the art laser weld technology. Our vast array of finishing processes can be used to create a variety of surface textures; matte, shiny, smooth, roughened, sharp, and laser marked.