Fractional Tubing
Fractional tubing is often used in commercial applications that require corrosion resistance and good strength. MicroGroup fractional tubing starts at 1/32″ OD and is generally stocked in 304 stainless steel and 316 stainless steel but is also available in many other metals and alloys in a variety of specifications. It is typically stocked in the annealed temper condition and is available as welded tubing (welded and drawn) or seamless tubing.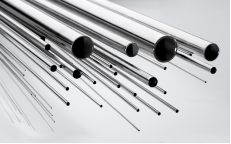 Fractional stainless steel is normally available in commercial ratings such as ASTM-A-269, ROHS, Mil-T-8504 and ASM-5570. Note that MicroGroup offers the in-house capability to produce custom sizes and hold the chemical composition of the starting specification to reduce lead times.
For sizes or alloys not listed below, or to place an order, call 800-255-8823. To purchase standard stock tubing please visit our Online Store.
Please Specify Fractional Tubing by:

Standard Material
| Grade | Material |
| --- | --- |
| 304 | Stainless Steel Tubing |
| 304L | Stainless Steel Tubing |
| 316 | Stainless Steel Tubing |
| 321 | Stainless Steel Tubing |
| 347 | Stainless Steel Tubing |
| 430 | Stainless Steel Tubing |
| Other Grades | Call for Availability of Other Stainless Steel Tubing Alloys |
Other Metals and Alloys
Grade
Material
200
Nickel ("A" Nickel)
600
Inconel Alloy
(Inconel is a registered trademark by Inco Alloys International)
625
Inconel Alloy
(Inconel is a registered trademark by Inco Alloys International)
C276
Hastelloy Alloy
(Hastelloy is a registered trademark by Inco Alloys International)
Ti2
Unalloyed Titanium A-40
6061
Aluminum
101
Copper
122
Copper
Other Grades
Call for availability of other Nickel, Inconel, Titanium, Aluminum, Copper, Brass and other specialty metals or alloys
Tolerance Table
TOLERANCES
F1-Standard Tol
F2-Close Tol
Tube Size OD (Inches)
Tolerance OD (Inches)
Tolerance Wall (%)
Tolerance OD (Inches)
Tolerance Wall (%)
Less than 3/32 (.0938")
±.005"
±15%
+.002/-.000
±10%
3/32 to < 3/16 (.1875")
±.005"
±15%
+.003/-.000
±10%
3/16 to < 1/2 (.500")
±.005"
±15%
+.004/-.000
±10%
1/2 to < 1-1/2 (1.500")
±.005"
±10%
+.005/-.000
±10%
1-1/2 to < 3-1/2
±.010"
±10%
n/a
n/a
Complete Listing and Specifications
View
Nominal Tube Size (Inches)

Item # (Base)

WD = Welded / SL = Seamless

Other SS Alloys

Other Nickel Alloys

1/32″(.0313″)
.006
.019
F10032X006
X
X
200
.79 mm
.010
.011
F10032X010
X
X
1/16″
.006
.051
F10062X006
X
X
X
X
600
.0625″
.010
.043
F10062X010
X
X
X
X
321, 347
200, 400, 600
1.59 mm
.012
.039
F10062X012
X
X
321
.016
.031
F10062X016
X
X
X
X
321
200, 600
.020
.023
F10062X020
X
321
200, 600
.026
.011
F10062X026
X
X
.028
.007
F10062X028
X
X
3/32″
.006
.082
F10093X006
X
X
X
X
.0938″
.010
.074
F10093X010
X
X
X
X
321
600
2.38 mm
.016
.062
F10093X016
X
X
X
321
600
.020
.054
F10093X020
X
X
X
321
600
.028
.038
F10093X028
X
X
321
.035
.024
F10093X035
X
X
1/8″
.006
.113
F10125X006
X
X
X
.1250″
.010
.105
F10125X010
X
X
X
X
321
600
3.18 mm
.012
.101
F10125X012
X
X
321, 347
600
.016
.093
F10125X016
X
X
X
321
600
.020
.085
F10125X020
X
X
X
321, 347
200, 400, 600
.025
.075
F10125X025
X
.028
.069
F10125X028
X
X
X
X
321, 347
200, 400, 600
.032
.061
F10125X032
X
321
.035
.055
F10125X035
X
X
X
321, 347
200, 400, 600
.042
.041
F10125X042
X
X
.049
.027
F10125X049
X
X
321
5/32″
.006
.144
F10156X006
X
X
.1563″
.010
.136
F10156X010
X
X
X
3.97 mm
.016
.124
F10156X016
X
X
X
X
321
.020
.116
F10156X020
X
X
X
X
321
.028
.100
F10156X028
X
X
X
X
321
.035
.086
F10156X035
X
X
X
321
.049
.058
F10156X049
X
X
321
3/16″
.006
.176
F10188X006
X
X
X
.1875″
.010
.168
F10188X010
X
X
X
X
321
600
4.76 mm
.016
.156
F10188X016
X
X
X
X
321
200, 600
.020
.148
F10188X020
X
X
X
X
321, 347
600
.028
.132
F10188X028
X
X
X
X
321, 347
200, 600
.035
.118
F10188X035
X
X
X
X
310, 321, 347
200, 400, 600
.049
.090
F10188X049
X
X
X
X
321, 347
600
.058
.072
F10188X058
X
.065
.058
F10188X065
X
X
7/32″
.006
.207
F10219X006
X
.2188″
.010
.199
F10219X010
X
X
321
5.56 mm
.016
.187
F10219X016
X
X
.020
.180
F10219X020
X
X
.028
.163
F10219X028
X
X
.035
.149
F10219X035
X
X
321
.049
.121
F10219X049
X
X
1/4″
.006
.238
F10250X006
X
X
X
.2500″
.010
.230
F10250X010
X
X
X
X
600
6.35 mm
.016
.218
F10250X016
X
X
X
X
321, 347
600
.020
.210
F10250X020
X
X
X
X
310, 321, 347
200, 400, 600
.028
.194
F10250X028
X
X
X
X
310, 321, 347
200, 400, 600
.032
.186
F10250X032
X
X
X
.035
.180
F10250X035
X
X
X
X
310, 321, 347
200, 400, 600
.049
.152
F10250X049
X
X
X
X
310, 321, 347
200, 400, 600
.058
.134
F10250X058
X
X
321
.065
.120
F10250X065
X
X
X
X
310, 321, 347
200, 400, 600
.083
.084
F10250X083
X
X
X
X
321
.095
.060
F10250X095
X
X
321
9/32″
.006
.269
F10281X006
X
.2813″
.010
.261
F10281X010
X
X
7.14 mm
.016
.249
F10281X016
X
X
.020
.241
F10281X020
X
X
.028
.225
F10281X028
X
X
.035
.211
F10281X035
X
X
.049
.183
F10281X049
X
5/16″
.006
.301
F10312X006
X
X
.3125″
.010
.293
F10312X010
X
X
X
321
7.94 mm
.016
.281
F10312X016
X
X
X
321
.020
.273
F10312X020
X
X
X
X
321, 347
200, 600
.028
.257
F10312X028
X
X
X
X
321, 347
600
.035
.243
F10312X035
X
X
X
X
310, 321, 347
200, 400, 600
.049
.215
F10312X049
X
X
X
X
310, 321, 347
600
.058
.197
F10312X058
X
321
.065
.183
F10312X065
X
X
X
X
321
200, 600
.083
.147
F10312X083
X
X
321
.095
.123
F10312X095
X
X
321
.120
.073
F10312X120
X
.125
.063
F10312X125
X
X
11/32″
.010
.324
F10344X010
X
X
.3438″
.016
.312
F10344X016
X
8.73 mm
.020
.304
F10344X020
X
.028
.288
F10344X028
X
.035
.274
F10344X035
X
3/8″
.006
.363
F10375X006
X
.3750″
.010
.355
F10375X010
X
X
X
9.53 mm
.016
.343
F10375X016
X
X
X
321
.020
.335
F10375X020
X
X
X
X
321, 347
600
.028
.319
F10375X028
X
X
X
X
321, 347
200, 400, 600
.035
.305
F10375X035
X
X
X
X
310, 321, 347
200, 400, 600
.042
.291
F10375X042
X
.049
.277
F10375X049
X
X
X
X
310, 321, 347
200, 400, 600
.058
.259
F10375X058
X
X
.065
.245
F10375X065
X
X
X
X
310, 321, 347
200, 400, 600
.083
.209
F10375X083
X
X
X
X
321, 347
400, 600
.095
.185
F10375X095
X
X
X
X
321, 347
.109
.157
F10375X109
X
.120
.135
F10375X120
X
X
321
.134
.107
F10375X134
X
.156
.063
F10375X156
X
7/16″
.010
.418
F10437X010
X
.4375″
.016
.406
F10437X016
X
X
X
11.11 mm
.020
.398
F10437X020
X
X
X
321, 347
.028
.382
F10437X028
X
X
X
X
321, 347
.035
.368
F10437X035
X
X
X
X
321, 347
600
.049
.340
F10437X049
X
X
X
X
321, 347
.058
.322
F10437X058
X
321
.065
.308
F10437X065
X
X
X
321
600
.083
.272
F10437X083
X
X
X
347
.095
.248
F10437X095
X
X
321
.109
.220
F10437X109
X
.120
.198
F10437X120
X
X
321
1/2″
.006
.488
F10500X006
X
.5000″
.010
.480
F10500X010
X
X
X
321
12.70 mm
.016
.468
F10500X016
X
X
X
321
.020
.460
F10500X020
X
X
X
X
321, 347
.028
.444
F10500X028
X
X
X
X
310, 321, 347
200, 400, 600
.035
.430
F10500X035
X
X
X
X
310, 321, 347
200, 400, 600
.049
.402
F10500X049
X
X
X
X
310, 321, 347
200, 400, 600
.058
.384
F10500X058
X
X
321
400, 600
.065
.370
F10500X065
X
X
X
X
310, 321, 347
200, 400, 600
.083
.334
F10500X083
X
X
X
X
310, 321, 347
400, 600
.095
.310
F10500X095
X
X
X
X
321, 347
400, 600
.109
.282
F10500X109
X
X
600
.120
.260
F10500X120
X
X
310, 321, 347
400, 600
.125
.250
F10500X125
X
X
347
.134
.232
F10500X134
X
X
347
.156
.188
F10500X156
X
X
321
.188
.124
F10500X188
X
X
9/16″
.010
.543
F10562X010
X
X
.5625″
.016
.531
F10562X016
X
X
321
14.29 mm
.020
.523
F10562X020
X
X
.028
.507
F10562X028
X
X
X
X
321
.035
.493
F10562X035
X
X
X
X
321
400, 600
.049
.465
F10562X049
X
X
X
X
321
600
.065
.433
F10562X065
X
X
X
X
321
600
.083
.397
F10562X083
X
X
X
321
.095
.373
F10562X095
X
X
X
.120
.323
F10562X120
X
X
.125
.313
F10562X125
X
.156
.251
F10562X156
X
X
.188
.187
F10562X188
X
X
5/8″
.010
.605
F10625X010
X
X
.6250″
.016
.593
F10625X016
X
X
321
15.88 mm
.020
.585
F10625X020
X
X
X
X
321, 347
.028
.569
F10625X028
X
X
X
X
321, 347
.035
.555
F10625X035
X
X
X
X
310, 321, 347
200, 400, 600
.049
.527
F10625X049
X
X
X
X
310, 321, 347
200, 400, 600
.058
.509
F10625X058
X
X
321, 347
.065
.495
F10625X065
X
X
X
X
310, 321, 347
200, 400, 600
.083
.459
F10625X083
X
X
X
X
310, 321, 347
400, 600
.095
.435
F10625X095
X
X
X
X
321
400, 600
.109
.407
F10625X109
X
X
.120
.385
F10625X120
X
X
321
600
.125
.375
F10625X125
X
.134
.357
F10625X134
X
X
.156
.313
F10625X156
X
X
.188
.249
F10625X188
X
X
321
.250
.125
F10625X250
X
11/16″
.020
.648
F10688X020
X
.6875″
.028
.632
F10688X028
X
321
17.46 mm
.035
.618
F10688X035
X
X
321
.049
.590
F10688X049
X
X
X
X
.065
.558
F10688X065
X
X
X
X
321
.083
.522
F10688X083
X
.095
.498
F10688X095
X
.120
.448
F10688X120
X
3/4″
.010
.730
F10750X010
X
X
.7500″
.016
.718
F10750X016
X
X
321
19.05 mm
.020
.710
F10750X020
X
X
X
321, 347
.028
.694
F10750X028
X
X
X
X
321, 347
600
.035
.680
F10750X035
X
X
X
X
310, 321, 347
200, 400, 600
.049
.652
F10750X049
X
X
X
X
310, 321, 347
200, 400, 600
.058
.634
F10750X058
X
X
321
.065
.620
F10750X065
X
X
X
X
310, 321, 347, 410
200, 400, 600
.083
.584
F10750X083
X
X
X
X
310, 321, 347, 410
200, 400, 600
.095
.560
F10750X095
X
X
X
X
321, 347
400, 600
.109
.532
F10750X109
X
X
X
X
321
200, 400, 600
.120
.510
F10750X120
X
X
X
X
310, 321, 347
200, 600
.125
.500
F10750X125
X
X
321
400, 600
.134
.482
F10750X134
X
X
321
.156
.438
F10750X156
X
X
321
.188
.374
F10750X188
X
X
321
.250
.250
F10750X250
X
X
13/16″
.028
.757
F10812X028
X
X
321
.8125″
.035
.743
F10812X035
X
X
321
20.64 mm
.049
.715
F10812X049
X
X
.065
.683
F10812X065
X
X
.083
.647
F10812X083
X
X
.095
.623
F10812X095
X
7/8″
.010
.855
F10875X010
X
.8750″
.016
.843
F10875X016
X
22.23 mm
.020
.835
F10875X020
X
X
.028
.819
F10875X028
X
X
.035
.805
F10875X035
X
X
X
X
321, 347
400, 600
.049
.777
F10875X049
X
X
X
X
310, 321, 347
400, 600
.058
.759
F10875X058
X
.065
.745
F10875X065
X
X
X
X
310, 321, 347
200, 400, 600
.083
.709
F10875X083
X
X
X
X
321
200, 600
.095
.685
F10875X095
X
X
X
X
321
.109
.657
F10875X109
X
X
.120
.635
F10875X120
X
X
310, 321, 347
600
.156
.563
F10875X156
X
X
321
.188
.499
F10875X188
X
X
321
.250
.375
F10875X250
X
X
321
15/16″
.028
.882
F10937X028
X
.9375″
.035
.868
F10937X035
X
23.81 mm
.049
.840
F10937X049
X
.065
.808
F10937X065
X
X
.083
.772
F10937X083
X
.095
.748
F10937X095
X
.120
.698
F10937X120
X
.016
.968
F11000X016
X
1″
.020
.960
F11000X020
X
X
X
321, 347
1.0000″
.028
.944
F11000X028
X
X
X
X
321, 347
25.40 mm
.035
.093
F11000X035
X
X
X
X
310, 321, 347
200, 400, 600
.049
.902
F11000X049
X
X
X
X
310, 347
200, 400, 600
.058
.884
F11000X058
X
.065
.870
F11000X065
X
X
X
X
310, 321, 347
200, 400, 600
.083
.834
F11000X083
X
X
X
X
310, 321, 347
200, 400, 600
.095
.810
F11000X095
X
X
X
X
317, 321, 347
400, 600
.109
.782
F11000X109
X
X
X
X
310, 321, 347, 410
200, 400, 600
.120
.760
F11000X120
X
X
X
X
310, 321, 347
400, 600
.125
.750
F11000X125
X
X
321
600
.134
.732
F11000X134
X
X
200, 400
.156
.688
F11000X156
X
X
321
.188
.624
F11000X188
X
X
321
.250
.500
F11000X250
X
X
321
.375
.250
F11000X375
X
X
1-1/8″
.035
1.055
F11125X035
X
X
X
X
321, 347
1.1250″
.049
1.027
F11125X049
X
X
X
X
321
28.58 mm
.065
.995
F11125X065
X
X
X
X
321
.083
.959
F11125X083
X
X
X
X
321
.095
.094
F11125X095
X
X
X
321
.120
.885
F11125X120
X
X
X
X
321
.188
.749
F11125X188
X
X
321
.250
.625
F11125X250
X
X
1-1/4″
.028
1.194
F11250X028
X
X
X
321, 347
1.2500″
.035
1.180
F11250X035
X
X
X
X
321, 347
400, 600
31.75 mm
.049
1.152
F11250X049
X
X
X
X
321, 347
400
.065
1.120
F11250X065
X
X
X
X
317, 321, 347
200, 400, 600
.083
1.084
F11250X083
X
X
X
X
321
200, 400, 600
.095
1.060
F11250X095
X
X
X
X
321
400
.188
.874
F11250X188
X
X
321
.250
.750
F11250X250
X
X
321
1-3/8″
.035
1.305
F11375X035
X
X
X
321, 347
1.3750″
.049
1.277
F11375X049
X
X
X
X
321, 347
34.93 mm
.065
1.245
F11375X065
X
X
X
X
321
.083
1.209
F11375X083
X
X
X
.095
1.185
F11375X095
X
X
X
.120
1.135
F11375X120
X
X
X
X
.188
.999
F11375X188
X
X
321
.250
.875
F11375X250
X
X
321
1-1/2″
.028
1.444
F11500X028
X
X
1.5000″
.035
1.430
F11500X035
X
X
X
X
310, 321, 347
600
38.10 mm
.049
1.402
F11500X049
X
X
X
X
310, 321, 347
400, 600
.065
1.370
F11500X065
X
X
X
X
310, 321, 347
200, 400, 600
.083
1.334
F11500X083
X
X
X
X
321
200, 400, 600
.095
1.310
F11500X095
X
X
X
X
321, 347
400, 600
.120
1.260
F11500X120
X
X
X
X
310, 321, 347
200, 400, 600
.156
1.188
F11500X156
X
X
X
X
.188
1.124
F11500X188
X
X
321
.250
1.000
F11500X250
X
X
321
.313
.876
F11500X313
X
X
321
.375
.750
F11500X375
X
X
321
1-5/8″
.035
1.555
F11625X035
X
X
1.6250″
.049
1.527
F11625X049
X
X
X
X
321
41.28 mm
.065
1.495
F11625X065
X
X
X
X
310, 321
.083
1.459
F11625X083
X
X
X
.095
1.435
F11625X095
X
X
.120
1.385
F11625X120
X
X
X
X
321
.188
1.249
F11625X188
X
X
321
.250
1.125
F11625X250
X
X
.375
.875
F11625X375
X
X
321
1-3/4″
.035
1.680
F11750X035
X
X
X
X
321, 347
1.7500″
.049
1.652
F11750X049
X
X
X
X
310, 321
44.45 mm
.065
1.620
F11750X065
X
X
X
X
310, 321
400, 600
.083
1.584
F11750X083
X
X
X
X
321
.095
1.560
F11750X095
X
X
X
X
321
.120
1.510
F11750X120
X
X
X
X
321
.156
1.438
F11750X156
X
.188
1.374
F11750X188
X
X
321
.250
1.250
F11750X250
X
X
321
.375
1.000
F11750X375
X
X
1-7/8″
.035
1.805
F11875X035
X
X
1.8750″
.049
1.777
F11875X049
X
X
X
X
321
47.63 mm
.065
1.745
F11875X065
X
X
X
X
321
.083
1.709
F11875X083
X
X
.095
1.685
F11875X095
X
X
X
321
.120
1.635
F11875X120
X
X
.188
1.499
F11875X188
X
X
.250
1.375
F11875X250
X
X
321
2″
.028
1.944
F12000X028
X
X
X
321, 347
2.0000″
.035
1.930
F12000X035
X
X
X
X
321, 347
600
50.8 mm
.049
1.902
F12000X049
X
X
X
X
310, 321, 347
600
.065
1.870
F12000X065
X
X
X
X
310, 321, 347
200, 400, 600
.083
1.834
F12000X083
X
X
X
X
310, 321
200, 400, 600
.095
1.810
F12000X095
X
X
X
X
310, 321
600
.120
1.760
F12000X120
X
X
X
X
310, 321
200, 400, 600
.156
1.688
F12000X156
X
X
X
321
.188
1.624
F12000X188
X
X
X
310, 321
.250
1.500
F12000X250
X
X
310, 321, 347
.313
1.376
F12000X313
X
X
321
.375
1.250
F12000X375
X
X
321
.438
1.126
F12000X438
X
X
.500
1.000
F12000X500
X
X
310, 321, 347
2-1/8″
.035
2.055
F12125X035
X
X
2.1250″
.049
2.027
F12125X049
X
X
X
X
321
53.98 mm
.065
1.995
F12125X065
X
X
X
X
321
.083
1.959
F12125X083
X
X
X
.095
1.935
F12125X095
X
X
X
.120
1.885
F12125X120
X
X
X
321
.188
1.749
F12125X188
X
X
.250
1.625
F12125X250
X
X
321
.375
1.375
F12125X375
X
X
321, 347
.500
1.125
F12125X500
X
X
321
2-1/4″
.035
2.180
F12250X035
X
X
2.25000″
.049
2.152
F12250X049
X
X
X
X
321
57.15 mm
.065
2.120
F12250X065
X
X
X
X
321, 347
.083
2.084
F12250X083
X
X
X
X
321
.095
2.060
F12250X095
X
X
X
.120
2.010
F12250X120
X
X
X
X
310, 321
.188
1.874
F12250X188
X
X
321
.250
1.750
F12250X250
X
X
321
.375
1.500
F12250X375
X
X
321
.500
1.250
F12250X500
X
X
321
2-3/8″
.035
2.305
F12375X035
X
X
2.3750″
.049
2.277
F12375X049
X
X
60.33 mm
.065
2.245
F12375X065
X
X
X
X
321
.083
2.209
F12375X083
X
X
X
X
.095
2.185
F12375X095
X
.120
2.135
F12375X120
X
X
X
.188
1.999
F12375X188
X
X
321
.250
1.875
F12375X250
X
X
321
.375
1.625
F12375X375
X
X
321
.500
1.375
F12375X500
X
X
2-1/2″
.035
2.430
F12500X035
X
X
X
X
321, 347
2.5000″
.049
2.402
F12500X035
X
X
X
X
321, 347
63.50 mm
.065
2.370
F12500X065
X
X
X
X
310, 321, 347
200, 400, 600
.083
2.334
F12500X083
X
X
X
X
310, 321
200, 400
.095
2.310
F12500X095
X
X
X
321
.120
2.260
F12500X120
X
X
X
X
321, 347
400, 600
.188
2.124
F12500X188
X
X
321
.250
2.000
F12500X250
X
X
310, 321
.375
1.750
F12500X375
X
X
310, 321
.500
1.500
F12500X500
X
X
310, 321, 410
2-5/8″
.049
2.527
F12625X049
X
2.6250″
.065
2.495
F12625X065
X
X
X
X
321
66.68 mm
.095
2.435
F12625X095
X
X
.120
2.385
F12625X120
X
X
X
X
321, 347
.188
2.249
F12625X188
X
X
321
.250
2.125
F12625X250
X
X
.375
1.875
F12625X375
X
X
321
.500
1.625
F12625X500
X
X
321
2-3/4″
.035
2.680
F12750X035
X
X
2.7500″
.049
2.652
F12750X049
X
X
69.85 mm
.065
2.620
F12750X065
X
X
X
X
321
.083
2.584
F12750X083
X
X
X
X
321
.120
2.510
F12750X120
X
X
X
X
321
.188
2.374
F12750X188
X
X
321
.250
2.250
F12750X250
X
X
321
.500
1.750
F12750X500
X
X
321
3″
.035
2.930
F13000X035
X
X
X
X
321, 347
3.0000″
.049
2.902
F13000X049
X
X
X
X
321, 347
76.20 mm
.065
2.870
F13000X065
X
X
X
X
310, 321, 347
200, 400, 600
.083
2.834
F13000X083
X
X
X
X
310, 321
200, 400, 600
.095
2.810
F13000X095
X
X
X
X
321
.120
2.760
F13000X120
X
X
X
X
310, 321, 347
200, 600
.156
2.688
F13000X156
X
X
.188
2.624
F13000X188
X
X
X
321
.250
2.500
F13000X250
X
X
310, 321
600
.313
2.376
F13000X313
X
X
.375
2.250
F13000X375
X
X
321
.500
2.000
F13000X500
X
X
310, 321
.625
1.750
F13000X625
X
X
321
.750
1.500
F13000X750
X
X
321