Posted September 10, 2015 by Nicole Belanger
MicroGroup's Newly Configured Passivation Tank Treats Tubing Over 5 Feet!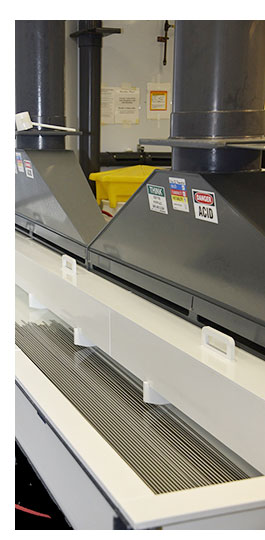 Tubing Passivation Up to 12 Foot Lengths!
MicroGroup continues to expand the scope of its value-added finishing services with the addition of a large passivation tank capable of passivating tubing from up to 12 feet in length. Passivation is the chemical process used to increase corrosion resistant properties of stainless steel and clean discoloration from fabrication operations. In addition to tubing less than 5 feet and very small parts, MicroGroup can now passivate longer length tubing as needed!
Fast delivery of finished longer length tubing with MicroGroup's large tubing inventory and in-house finishing capabilities
Additional in-house finishing services include: Micro Grid Blasting, Electro Polishing, Vibratory Polishing, ID Honing, and Centerless Grinding
"We have recently experienced increasing cleanliness and passivation requirements from our customers. This new capability allows us to expand the range of passivated products we supply while maintaining our excellent quality and lead-times." – Bill Bergen, President of MicroGroup, Inc.
MicroGroup welcomes all OEMs to send a print, CAD file, or concept drawing of a development project to info@microgroup.com for a complimentary assessment and pricing proposal.