Transition (Male <> Male)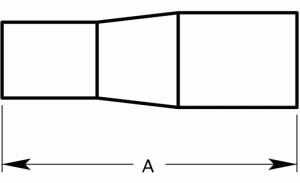 Used as a reducer or expander to accomplish a change in O.D. size. Can be employed in conjunction with any MF, FF or SF style fitting to obtain a reduced or expanded male end. Also can be used as a butt weld connector when a change in O.D. is desired.
Dimensions are in inches.
Call 800-All-Tube for Pricing
| | | | |
| --- | --- | --- | --- |
| Item # | Sizes | Wall | A |
| 5MM-4-5 | 1/4 x 5/16 | .025 | 31/32 |
| 5MM-4-6 | 1/4 x 3/8 | .025 | 15/16 |
| 5MM-5-6 | 5/16 x 3/8 | .025 | 1-1/16 |
| 5MM-6-8 | 3/8 x 1/2 | .032 | 1-5/16 |
| 5MM-8-10 | 1/2 x 5/8 | .035 | 1-7/16 |
| 5MM-10-12 | 5/8 x 3/4 | .035 | 1-7/16 |
| 5MM-12-16 | 3/4 x 1 | .049 | 2-1/2 |
| 5MM-16-20 | 1 x 1-1/4 | .049 | 2-1/2 |
| 5MM-16-24 | 1 x 1-1/2 | .049 | 2-1/8 |
| 5MM-20-24 | 1-1/4 x 1-1/2 | .049 | 2-7/16 |