Expander
(Male OD <> Female ID)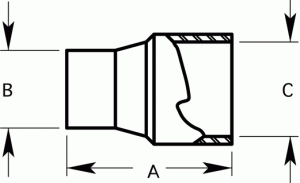 Used as an adapter where an expansion from a smaller OD to a large OD is required. Can be employed in conjunction with the 10FF union to join different OD sizes of tubing. May also be utilized with any MF, FF or SF style fitting.
Dimensions are in inches.
Call 800-All-Tube for Pricing
| | | | | | |
| --- | --- | --- | --- | --- | --- |
| Item # | Sizes | Wall | A | B | C |
| 10MF-4-5 | 1/4 x 5/16 | .025 | 15/16 | 1/4 | .316 |
| 10MF-4-6 | 1/4 x 3/8 | .025 | 7/8 | 1/4 | .379 |
| 10MF-5-6 | 5/16 x 3/8 | .025 | 1-1/32 | 5/16 | .379 |
| 10MF-6-8 | 3/8 x 1/2 | .032 | 1-9/32 | 3/8 | .504 |
| 10MF-8-10 | 1/2 x 5/8 | .035 | 1-3/8 | 1/2 | .629 |
| 10MF-8-12 | 1/2 x 3/4 | .035 | 1-3/8 | 1/2 | .754 |
| 10MF-10-12 | 5/8 x 3/4 | .035 | 1-3/8 | 5/8 | .754 |
| 10MF-12-16 | 3/4 x 1 | .049 | 2-7/16 | 3/4 | 1.005 |
| 10MF-16-24 | 1″ x 1-1/2 | .049 | 2-1/16 | 1 | 1.505 |
| 10MF-20-24 | 1-1/4 x 1-1/2 | .049 | 2-3/8 | 1-1/4 | 1.505 |