Adapter (Female <> Flare)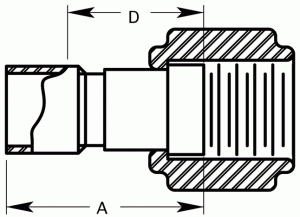 Used to provide an easy sub-assembly disconnect. Female end to accept tube OD or male ends of BrazeTyte fittings. Swivel end mates with SAE 37°, JIC 37° and AN/MS 37° flare type fittings. Type 303 Nut & Sleeve. Call for other 37° Configurations.
Dimensions are in inches.
Call 800-All-Tube for Pricing
| | | | | | | |
| --- | --- | --- | --- | --- | --- | --- |
| Item # | Sizes | Wall | Hex | Thread | A | D |
| 10SF-4 | 1/4 | .025 | 9/16 | 7/16-20 | 1-1/32 | 25/32 |
| 10SF-5 | 5/16 | .025 | 5/8 | 1/2-20 | 1-1/8 | 7/8 |
| 10SF-6 | 3/8 | .028 | 11/16 | 9/16-18 | 1-1/8 | 7/8 |
| 10SF-8 | 1/2 | .032 | 7/8 | 3/4-16 | 1-9/32 | 31/32 |
| 10SF-10 | 5/8 | .035 | 1 | 7/8-14 | 1-15/32 | 1-1/32 |
| 10SF-12 | 3/4 | .042 | 1-1/4 | 1-1/16-12 | 1-29/32 | 1-13/32 |
| 10SF-16 | 1 | .049 | 1-1/2 | 1-5/16-12 | 2-9/16 | 1-13/16 |
| 10SF-20 | 1-1/4 | .049 | 2 | 1-5/8-12 | 3-1/32 | |
| 10SF-24 | 1-1/2 | .049 | 2-1/4 | 1-7/8-12 | 3-7/32 | |