Saw Blades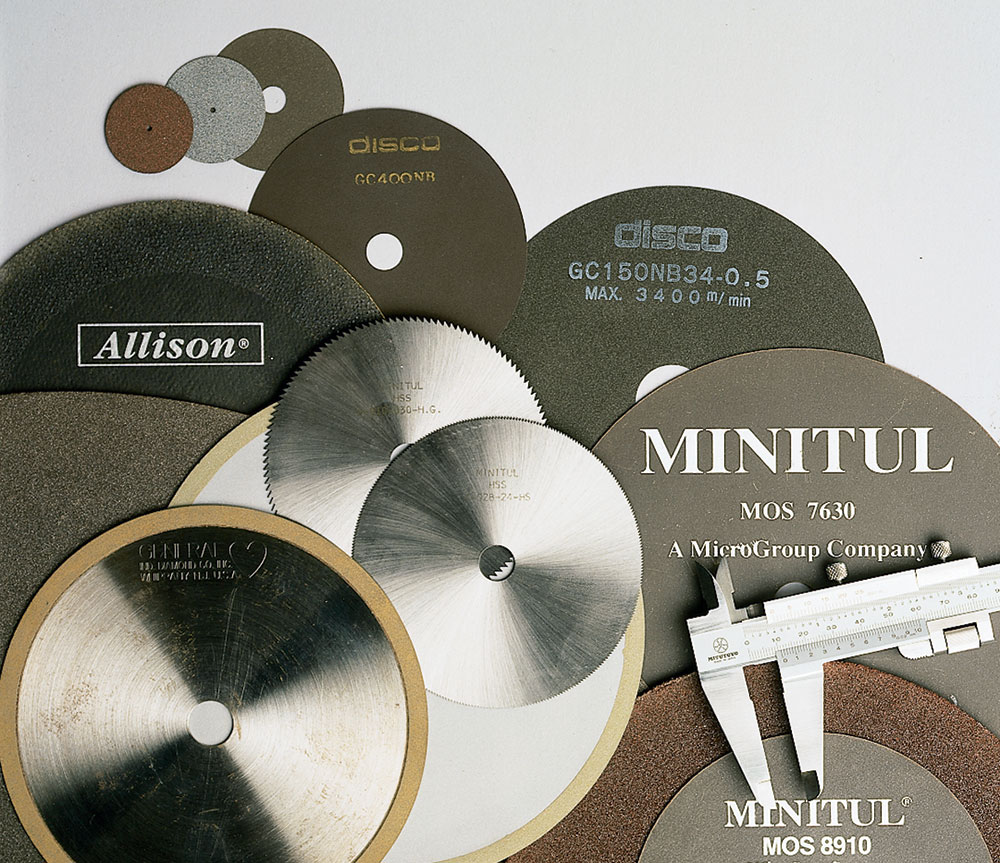 MicroGroup stocks a wide variety of saw blades for most applications and requirements. Below is a comprehensive list of the blades in stock for immediate shipment.
Blade Type
Lubricant Requirement
A
Aluminum Oxide
B
Use Boelube Lubricant
S
Silicone Oxide
D
Dry Cut
H
High Speed Steel
E
Either Boelube or Dry Cut
G
Hollow Ground Steel
Buy Today, Ships Next Business Day.
Showing all 17 results
Item #

Diameter

Grit /# Teeth

Thickness

Arbor Size

Alum<1/4``

Alum>1/4``

Brass<1/4``

Brass>1/4``

Copper<1/8``

Copper>1/8``

Glass

Plastics

Alloy

Steel

Wood

Type

Price
Qty
4-060-030AR


Reinforced Heavy Duty Abrasive Blade: 4 IN Diameter X 60 Grit

4
60
0.047
1/2"
D
D
A
7-080-030A-5/8


Non-Reinforced Heavy Duty Abrasive Blade: 7 IN Diameter X 80 Grit

7
80
0.03
5/8"
D
D
E
E
A
7-080-030A-1/2


Non-Reinforced Heavy Duty Abrasive Blade: 7 IN Diameter X 80 Grit

7
80
0.03
1/2"
D
D
E
E
A
6-080-030A-5/8


Non-Reinforced Heavy Duty Abrasive Blade: 6 IN Diameter X 80 Grit

6
80
0.03
5/8"
D
D
E
E
A
4-090-025A


Non-Reinforced Abrasive Blade: 4 IN Diameter X 90 Grit

4
90
0.025
1/2"
D
D
D
D
A
4-120-016A


Non-Reinforced Abrasive Blade: 4 IN Diameter X 120 Grit

4
120
0.016
1/2"
D
D
D
D
A
4-120-025S


Non-Reinforced Heavy Duty Abrasive Blade: 4 IN Diameter X 120 Grit

4
120
0.025
1/2"
B
S
4-240-013A


Non-Reinforced Abrasive Blade: 4 IN Diameter X 240 Grit

4
240
0.013
1/2"
D
D
D
D
A
4-SPL-009S


Non-Reinforced Abrasive Blade: 4 IN Diameter X — Grit

4
—
0.009
1/2"
B
B
S
5-010-030HG


Hollow-Ground High Speed Blade with Teeth: 5 IN Diameter X 10 Teeth

5
10
0.03
1/2"
B
B
B
D
D
D
D
G
5-024-028HS


High Speed Blade with Teeth: 5 IN Diameter X 24 Teeth

5
24
0.028
1/2"
B
B
D
B
B
D
D
H
5-046-060AR


Reinforced Heavy Duty Abrasive Blade: 5 IN Diameter X 46 Grit

5
46
0.067
1/2"
D
D
A
5-060-030AR


Reinforced Heavy Duty Abrasive Blade: 5 IN Diameter X 60 Grit

5
60
0.047
1/2"
D
D
A
5-080-030A


Non-Reinforced Heavy Duty Abrasive Blade: 5 IN Diameter X 80 Grit

5
80
0.03
1/2"
D
D
E
E
A
5-080-035A


Non-Reinforced Heavy Duty Abrasive Blade: 5 IN Diameter X 80 Grit

5
80
0.035
1/2"
D
D
E
E
A
5-080-060A


Non-Reinforced Heavy Duty Abrasive Blade: 5 IN Diameter X 80 Grit

5
80
0.06
1/2"
D
D
D
D
A
5-120-015A


Non-Reinforced Abrasive Blade: 5 IN Diameter X 120 Grit

5
120
0.015
1/2"
E
E
A

* Dimensions are in inches and prices are in USD