Posted July 2, 2014 by Nicole Belanger
MicroGroup Launches ALL TUBE Online Store – Most Popular Stock Products Now Sold Online!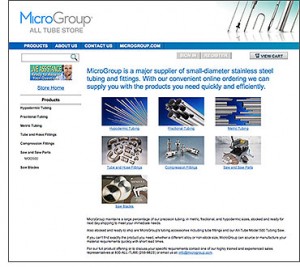 MicroGroup, Inc. is pleased to announce the launch of its new All Tube Online Store. The new site features the essential information to accurately order from MicroGroup's vast selection of small diameter stainless steel tubing, fittings and tubing related products. Additionally, the concise and easy-to-use navigation and advance "narrow your selection" tools assure no time is wasted looking for what you need.
Features 1,000s of Hypodermic, Fractional, and Metric Tubing listings, most available for immediate delivery
Incorporates 100s of tubing related products including: Tube/Hose Fittings, Compression Fittings, Cut-Off Saw/Parts, and Saw Blades
Offers live technical assistance as needed
Said William Bergen, President and CEO of MicroGroup, Inc., "The new online store is in response to our customers that continue to ask us for easier and faster ways to do business with us. This effort is built around ensuring we offer customers the ability to connect and work with us in the method they most prefer. Our On-line store allows customers to seamlessly and quickly fulfill their requirements for standard tubing while still having access to our considerable resources for their more technical tubing and 'print part' requirements."
In addition to its online store, MicroGroup welcomes all OEMs to send a print, CAD file, or concept drawing of a development project to info@microgroup.com for a complimentary assessment and pricing proposal.