Posted September 12, 2016 by Nicole Belanger
Welded Vs. Seamless Stainless Steel Tubing – Choosing the Best Product for Your Application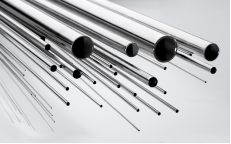 When choosing stainless steel tubing material, a decision you may need to make is whether your project should use seamless or welded and drawn tubing.
For decades, all stainless steel tubes were seamless. However, advances in welding and metal purification technologies have given rise to the popularity of welded tubing.
What Is Seamless Stainless Steel Tubing and What Are the Advantages?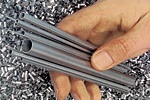 Seamless tubing has no longitudinal weld seam. The manufacturing of seamless tubing requires a mechanism to force the hole into the billet.
Rotary piercing and rolling is the most common method for producing seamless tubing today. The process starts with a conditioned steel round bar, which is heated, pierced, and worked. The bar is made to flow around a piercer point in order to form a hollow billet. The interior of the tube is supported with a mandrel or a plug while the billet roller is elongated. Sizing of the steel tube is achieved by additional rolling on the outside diameter.
Seamless tubing has 20% higher ASME (American Society of Mechanical Engineers) working pressures compared to welded tubing of the same material and size due to having no welded seam. The welded and drawn tubing can also have a visible seam that may concern end users.
Another advantage of seamless tubing is that it can offer superior corrosion resistance because it has little potential for impurities. Using seamless tubing allows you to avoid the potential for defects and differences in malleability that may be associated with the welded area in welded tubes. Unlike welded tubes, seamless tubes do not require testing for weld integrity.
Therefore, seamless tubing is often more suitable for critical applications.
What Is Welded Stainless Steel Tubing and What Are the Advantages?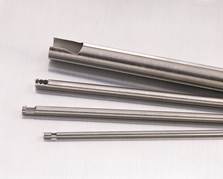 The welded tubing production process begins with the rolling of a steel coil to the desired gauge thickness. The outcome is a coil of a flat strip. The next step involves cutting the strip according to the width that corresponds with the size of the tube to be produced.
The tube is formed by moving the cut coil through a series of rollers, and the seam of the tube is then welded in a chemically neutral environment. A rolling application is used to forge the welded seam, and a heat treating process is used to finish the welded tube. Welded tubes can then be drawn over mandrels and ground if needed to smooth the welded seam and make it nearly impossible to see with the naked eye.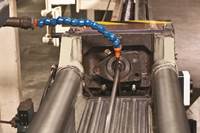 Because less drawing and annealing are needed in the manufacture of a welded and drawn tube, the cost of welded and drawn tubing can be less expensive than seamless tubing and can typically be procured quicker than seamless tubing (although stocking of intermediate size starting stock for seamless tubing can reduce this lead time as well).
Both Seamless and Welded Tubing Must Meet Pressure Standards
ASTM A269 is the ASTM International standard specification for seamless and welded austenitic stainless steel tubing for general service. The standard requires conformation to its chemical composition specifications and details the hardness requirements for different grades of tubes.
ASTM A269 also requires a non-destructive electric test or a hydrostatic test for pressure testing all seamless and welded tubing. The standard includes the tensile stress limitations for tubing of variable outside diameters and wall thicknesses.
There are many other ASTM standards that can be applied to Seamless or Welded and Drawn stainless steel tubing. Please see our article on ASTM Standards.
Should You Choose Welded or Seamless Stainless Steel Tubing?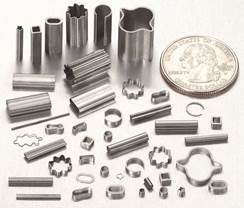 When choosing welded or seamless tubing, it should be compliant with your project specifications. If the specs do not require a particular type of tubing, you should consider the conditions in which the tubing will ultimately be used. Another factor to consider is that seamless can be substituted for welded tubing but welded tubing may not be able to be substituted for seamless due to the weld seam. The chart below is a quick reference to help you in your decision making process:
Comparison of Welded/Drawn Seamless Tubing

Welded and Drawn

Seamless

Lead Time

X

X

Tolerances

X

Concentricity

X

Cost

X

Availability

X

X

High Pressure

X

ID Surface

X

Heavy Wall

X

Substitution

X
MicroGroup Will Help You Choose the Best Stainless Steel Tubing for Your Project
MicroGroup offers experienced engineering support to both current and potential customers, and the MicroGroup team will help guide you to choose the best materials for your business needs. With MicroGroup, you will not have to worry that your choice of tubing will not meet your project specifications. We will review your project details and specs to ensure that you select the most appropriate and suitable product.
In addition, MicroGroup will provide you a quote prior to ordering, and we will advise you of the delivery time as well. Because MicroGroup maintains an extensive inventory and uses world-class equipment, we can rapidly deliver stock and custom tubing in commercial quantities. Contact MicroGroup today for more information about our superior quality products and exceptional customer service.