Posted December 4, 2012 by Nicole Belanger
New CNC Lathe Added to MicroGroup's Manufacturing Platform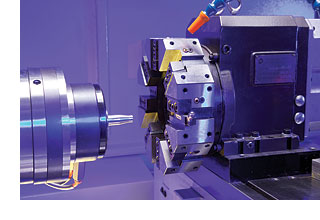 MicroGroup continues to invest in its manufacturing capabilities with the recent acquisition of a new Atrump KL-1640 CNC Lathe that will operate out of its Boston, MA facility. This high performance system substantially increases MicroGroup's manufacturing capacity and reduces customer lead times.
Said Alex Magyar, Vice President of Operations, MicroGroup, Boston, "The purchase of this latest CNC Lathe has increased our capacity by over 20% to accommodate the increased demand by our customers for small diameter high precision components. Moreover, the Atrump KL-1640 was selected because of its long bed capacity, which is ideal for efficiently producing longer length parts."
In addition, said William Bergen, President & CEO of MicroGroup, Inc., "This investment shows our continued commitment to expanding our extensive in-house capabilities to ensure we deliver on our core focus areas of Speed and Precision for our customers."
Highlights of the Atrump KL-1640 include:
Features massive one-piece casting construction for maximum cutting performance
100% laser tested for positioning accuracy & repeatability
Provides plenty of torque for heavy turning or hard to machine materials
For additional information on the new Atrump KL-1640 CNC Lathe or the full scope of MicroGroup's capabilities, please call 800-255-8823 or visit our capabilities pages.