Posted August 4, 2015 by Nicole Belanger
New and Improved microgroup.com Enhances User Experience – Notably Time-Saving Features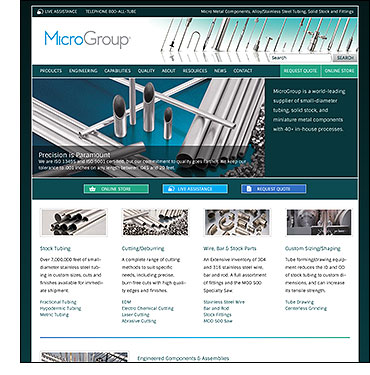 Now Tablet and Mobile Friendly!
MicroGroup is pleased to announce the rollout of its new and improved website – guaranteed to speed up your search and ordering process of tubing/wire materials and precision metal components.
Features a more streamlined navigational structure for enhanced ease-of-use
Has a fresh new pleasing look that was developed with the assistance of valued customer feedback
Continuation of existing site features including: secure online ordering, live customer assistance, resource library, and more
"We actively solicit our customers' input on our website. The latest enhancements include many of their requests. We continue to strive to meet our customers' needs in the speed and fashion they want to engage with us, be it the web, our on-line store, a direct call or a detailed print review with one of our engineers." – Bill Bergen, President and CEO of MicroGroup, Inc.
MicroGroup encourages all design engineers and purchasing personnel to experience the new and improved microgroup.com – it promises a terrific user experience and time-saving benefits.