Posted June 4, 2015 by Nicole Belanger
MicroGroup Purchases 3D Printer to Speed New Product Introductions, Reduce Lead-times and Enhance Quality Inspection Processes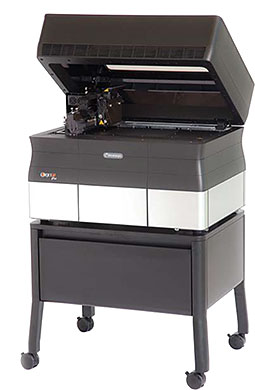 Fixturing for Prototype and Quality Measurements Made Faster!
MicroGroup continues to boost manufacturing speeds and efficiencies with the purchase of a new Objet30 Pro 3D Printer, with the intent of creating custom fixturing for in-house tooling, prototypes and quality inspection equipment. Taking advantage of the speed, accuracy and low development costs of 3D printer technology, MicroGroup has created an improved method of deploying new and refurbished tooling. This enables fast prototyping and fixturing which are crucial for rapid, accurate inspection processes.
The Objet30 Pro 3D Printer works with multiple types of materials with precision results
Accuracy and versatility of high-end 3D printer is ideal for custom protoypes, tooling and fixturing requirements
Quality measurement techniques can be aligned to customers with similar 3D printer equipment
"This investment is consistent with our continued focus of investing in our core areas of Speed and Precision. Adding in-house 3D printing provides enhanced value to our customers in both areas."
– Bill Bergen, President and CEO of MicroGroup, Inc.
MicroGroup welcomes all OEMs to send a print, CAD file, or concept drawing of a development project to info@microgroup.com for a complimentary assessment and pricing proposal.