Posted February 8, 2016 by Nicole Belanger
MicroGroup Goes Green with the Installation of 2,000 LED Lights and New Energy Efficient HVAC System!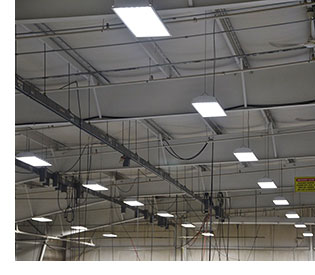 Less Electricity, Less Waste, More Light!
MicroGroup continues its focus on being an environmentally friendly business with a recent transition from fluorescent bulbs to all LED lighting across its facility. Additionally, HVAC units have been upgraded to state-of-the-art energy efficient systems. This exciting makeover has been achieved with the assistance of the state-sponsored Mass Save® Program that promotes savings through energy efficiency.
The new durable LED lights consume substantially less electricity and generate less disposable waste than fluorescent bulbs.
LED lights have been proven to be a more basic light source as they are closer to natural sunlight. MicroGroup's facility has improved lighting for visual inspection of products.
"Projects like this are good for our customers, our business and our community. We are pleased to continue to pursue opportunities to lessen our environmental footprint." – Bill Bergen, President of MicroGroup, Inc.