Posted February 27, 2017 by Nicole Belanger
MicroGroup Expands Online Store Selection!
MOD500 Saw & All Abrasive Saw Parts Available Now!
MicroGroup now offers all replacement parts for the MOD500 Small Diameter Cut-Off Saw on our online store with no minimum purchase. These parts are available to ship the next business day.
Included under the Saw and Saw Parts section of the online store is a complete diagram of the MOD500 Small Diameter Cut-Off Saw with the parts labeled so you can easily identify which part you need to order.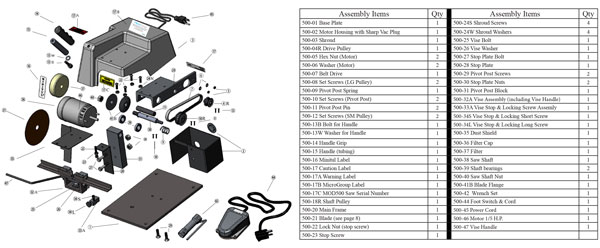 We have also added a video on how to use the MOD500 Saw. This tutorial will walk you through the set up process of the MOD500 Saw and how to cut material once the saw is operational.
As always, we are exploring new ways to make research and development an easy process by offering small quantities with no minimum order for our most popular products in hypodermic, fraction, metric tubing and selected wire sizes.
"As we see the demand increase for many of our off the shelf products, it is essential to have these items readily available to meet our customer needs."
– Bill Bergen, President & CEO, MicroGroup Inc.