Posted October 12, 2014 by Nicole Belanger
MicroGroup Commits to 25% Expansion of Space and New Equipment for its Cleaning and Finishing Platform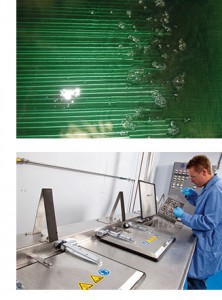 MicroGroup continues to commit resources to its cleaning and finishing capabilities with the allocation of more space and equipment including the addition of a new vacuum drying oven, ideal for small parts.
MicroGroup's broad range of validated cleaning and finishing services, including the new vacuum drying oven, offers our customers outstanding consistent quality, attractive value, and the supply chain ease of a single point of contact.
Cleaning:
NEW Vacuum Drying Oven
Ultrasonic Cleaning
Pickling/Acid Etching
Deionized Water Rinsing
Finishing:
Micro Grit Blasting
Electro Polishing
Vibratory Polishing
Passivation
Tumbling
Manual Deburring
ID Honing
Centerless Grinding
And more
For in-depth descriptions of the above services, see our Capabilities Page.
Said William Bergen, President and CEO of MicroGroup, Inc., "Following our customer's lead, we continue to invest and expand our cleaning and finishing capabilities to meet the increasingly stringent quality requirements required by the end markets we serve. We leverage our wide range of in-house capabilities to rapidly meet the service and performance needs of our customers."