Posted April 12, 2016 by Nicole Belanger
MicroGroup Implements the Latest Version of IQS Quality Management and Regulatory Compliance Software
MicroGroup Implements IQS Quality Management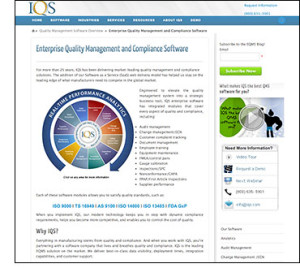 MicroGroup continues to enhance its quality and regulatory infrastructure with the recent implementation of the latest version of its current IQS Quality Management and Regulatory Compliance Software, ideally suited for suppliers to medical device companies. The IQS Software assists MicroGroup in delivering robust quality and compliance practices.
The IQS Software streamlines, standardizes and centralizes all quality and compliance data and processes for improved traceability, communication and quality performance for MicroGroup's customers.
The software also flags nonconforming parts automatically and is a key tool in defining and driving root cause and corrective action across the business.
IQS Software supports MicroGroup's ISO 13485:2003 registration and 21 CFR Part 820 compliance and is fully validated software.
"Upgrading to the latest version of our IQS software is another step of aligning our capabilities with those desired by our customers." – Bill Bergen, President of MicroGroup, Inc.
MicroGroup welcomes all OEMs to send a print, CAD file, or concept drawing of a development project to info@microgroup.com for a complimentary assessment and pricing proposal.