For over 40 years MicroGroup has been manufacturing components used in gynecology devices. Proprietary manufacturing methods and state of the art equipment allow MicroGroup to in component quality, precision, and lead-time. MicroGroup's ability to resize and center less grind tubing allows us to create inner/outer components with tolerances of "tenths of a thousandth of an inch" This capability results in optimum component performance.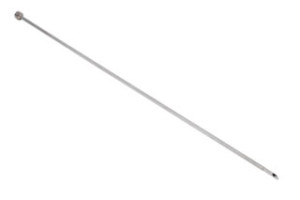 Our extensive knowledge of tubing is brought into bear during the manufacture of Laparoscopic components, cannula, curettes, hooks and catheter needles and hubs.
Depending on design and intended function, specialized EDM processes, forming, flaring, bending, grinding and grit blasting are used to provide intended geometry and ultimate performance of single component devices. Complex assemblies are achieved with the use of precision laser welding.
Some of our typical components include:
Solid trocars
Cannulas
Closed end tubes with side apertures
Hollow point cutters cylindrical ground and custom profile tips
Curettes
Laparoscopic tubes
MicroGroup produces the highest quality components and devices to exacting tolerances. Our many years of experience and process improvement have allowed us to perfect the programming and machining of the toughest profiles along with the finest finishes and to give the highest component durability.
To complement our machining capability, MicroGroup has a multitude of post manufacturing validated cleaning processes to ensure suitable for internal use.