Posted December 17, 2015 by Nicole Belanger
MicroGroup is ITAR Registered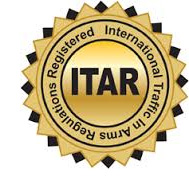 MicroGroup, Inc., a leading manufacturer of precision metal components and assemblies to the medical device/diagnostics, aerospace and other markets, is registered with the International Traffic in Arms Regulations (ITAR) from the U.S. Department of State.
This registration confirms MicroGroup's commitment to compliance of the regulations that control the export of defense articles, services, and related technical data on the United States Munitions List (USML). Moreover, the ITAR registration means that MicroGroup has the proper procedures and controls in place to assure with high level of certainty, compliance and security as required will be met on the U.S. military and defense-related projects.
"Our customers' supply chains have become increasingly more sophisticated and global in nature. Consistent with this trend, we have seen an increasing number of customers utilize our ITAR registration. This is another tool to help our customers in an increasingly regulated environment." – Bill Bergen, President of MicroGroup, Inc.
MicroGroup welcomes all OEMs to send a print, CAD file or concept drawing of a development project to info@microgroup.com for a complimentary assessment and pricing proposal.